Incanus wrote:
Worm holes again
I give you a little puzzle, Incanus.
1) Write down the AT and the NEAR names in its concatenated form:
OLDHAYWARDFARMSTRAIGHTSOLEY
2) Take out some letters from the left and some letters from the right. What would you leave in the middle?
Looking at the graphic of the crop design will not help you much, but the date when the crop circle formation was reported will, because of WHERE <=> WHEN.
OLDHAYWARDFARMSTRAIGHTSOLEY.......20 July
Now you can take the letters out with utmost confidence:
-----------ARMSTR----------
The word does not make sense though, unless you add a year to 20 July:
ARMSTR
is to
20 July
as
ARMSTRONG
is to
20 July, 1969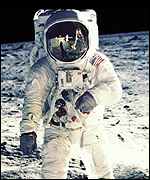 Mankind is not always about failures, is it?